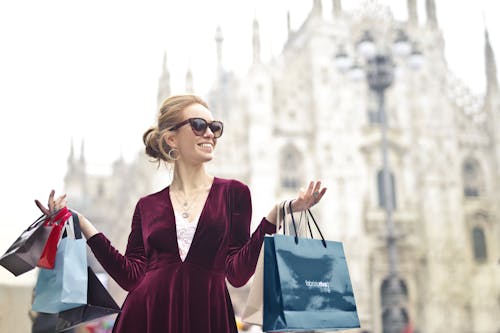 So, are you shopping for the most special day of your life? You might be curious to pick some of the most beautiful collections of clothing, accessories and of course jewelry from the market. But the true fact is that girls often get confused about which piece of jewelry will look perfect on their wedding dress and for the receptions ahead. If you are also in the same trouble, we advise you to check the latest additions of Bohemian Jewellery for the brides to be. There are plenty of unique and catchy collections at By Charlotte, and you can pick any of these at a reasonable price.
Below we have listed the top 5 contemporary collections that you must buy for the most special day of your life:
Gold Ring:
Be the center of attraction with the unique and attractive gold ring that is inspired by ancient mandalas. This jeweled lotus ring is the true representation of enlightenment and purity. It is loaded with a balancing, focusing and energizing mantra that can lead universal alignment and peace in your life. It is currently available in four different size ranges; you can easily pick the most suitable one for your engagement or wedding celebration.
2. Gold Eye Necklace:
Here is an intricate vintage piece of Bohemian jewelry collections. This necklace is designed with the power of the ancient evil eye. There is a protective mantra engraved on this necklace with words "I am loved, protected and blessed." It is the best choice for all those spiritual souls that want to start their wedding life with the blessings and self-love. This cool necklace also includes a powerful heart chakra stone that is known for amazing healing, cleaning and harmonizing properties. You will definitely love to wear this necklace to enjoy peaceful vibrations in your life.
3. Rose Gold Bracelet:
This unique and beautiful bracelet invokes the power of luck and spirituality in human life. The design is inspired by vintage bohemian lace, and the four leaves engraved on this bracelet represent luck, love, faith, and hope as well. It is the best choice to spread positive energy and happiness in your life.
4. Rose Gold Charmed Hoops:
These charming hoops are also designed with lucky four-leaf clover that has valuable mythical properties. They are believed to have potent healing properties that can spread positive energy while cleansing all the evils in life. These hoops are designed with an attractive finish and ultimate craftsmanship. People will definitely notice your unique selection on occasion.
5. 14K Gold Studs:
Why not buy a pair of heavenly studs for your special day. The bride to be would definitely love to wear these moon studs that show the impressive reflection of celestial planets. The waning moon is a symbol of a new beginning, and these delicate studs will adorn your day with amazing beauty. This tiny piece of the jewel can add more peace and happiness to your new life ahead.