Your wedding is one of the most magical and memorable days you'll ever experience, and you want it to be an occasion your guests remember too. What better way to preserve your special day than by giving your guests personalised wedding favours! Commemorate the date by having it, or your guest's name personalised onto stationery.
Why risk buying into favours that don't impress and get left behind. And with that forgotten gift, so too the memory of your wedding day. Give the practical gift of stationery, but with the twist of personalisation, so your friends and family will always remember your day!   
Why Stationery?
The better question, is why not? We all use stationery, some more than others, so it's a guarantee that your guests will use your little thank you! Isn't that the point, to give something with near-universal appeal that won't get forgotten about and will get used? Just think, if you give personalised pens whenever your friend reaches for that personalised purple ballpoint and sees your wedding date printed on it, they'll fondly remember your special day!
I'd say that's a win-win!
Personalised Paper, Pen or Day-planner, You Decide
Here are some wedding guest gift ideas that can be personalised, that'll be as enjoyable as the wedding cake itself – who doesn't love wedding cake? And, don't forget to look into bulk discounts – volume sales usually mean cost savings for you.
Have your fountain or rollerball pen laser engraved with your wedding's date, logo (hey, some couples go the extra mile) or guest name – up to 20 characters.

Customised notebooks two ways. Certain cahiers are suitable for laser engraving (up to 25 characters) while the garden-variety paper notebook can have a personalised sticker made and affixed to it.

Have a notepad customized with a sweet saying.

And don't forget about a monogrammed journal.
Invitations with a Personal Touch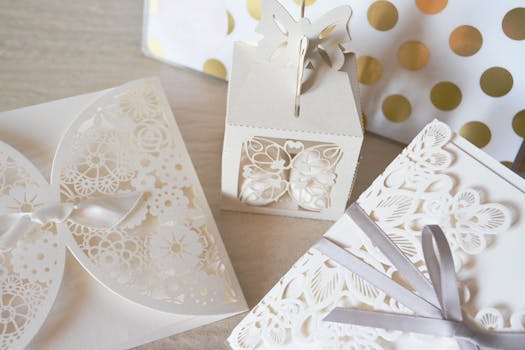 Another way to impress your guests is to send out personalised invites and thank you cards to your wedding! No detail is too small when it comes to preparing for your dream wedding!
Order your wedding invitations and thank you cards from an online stationery shop so you can craft a beautiful card representative of your wedding's theme!

Don't stop at cards, get matching envelopes too!

And then have a wax seal made to seal you invites with love!

The fun doesn't stop there, have some address labels made for your cards and don't forget to include one on the RSVP if you're sending those out too!
Commemorate Your Wedding with Customised Gifts
Your friends and family have come from near and far to celebrate your momentous day, so give them the practical gift of a personalised stationery item! They'll remember the occasion fondly everytime they go to use your monogrammed journal or laser engraved pen!